Being part of the AWS Ambassadors program has its perks, and one of them is attending the global AWS Ambassador Summit. This year, the summit was held in Seattle on September 19 and 20, 2023. Having attended last year's event, I was eager to return to Seattle. It was a thrilling two-day event that brought together experts, enthusiasts, and industry leaders to delve deep into the world of Amazon Web Services (AWS). With a diverse range of sessions, the summit explored various facets of AWS, from Generative AI to database and migration innovations and beyond. For the ones that lived under a rock the past couple of months, one thing was clear, GenAI is top of mind in every service team at AWS. In this blog a recap of the key highlights from the summit.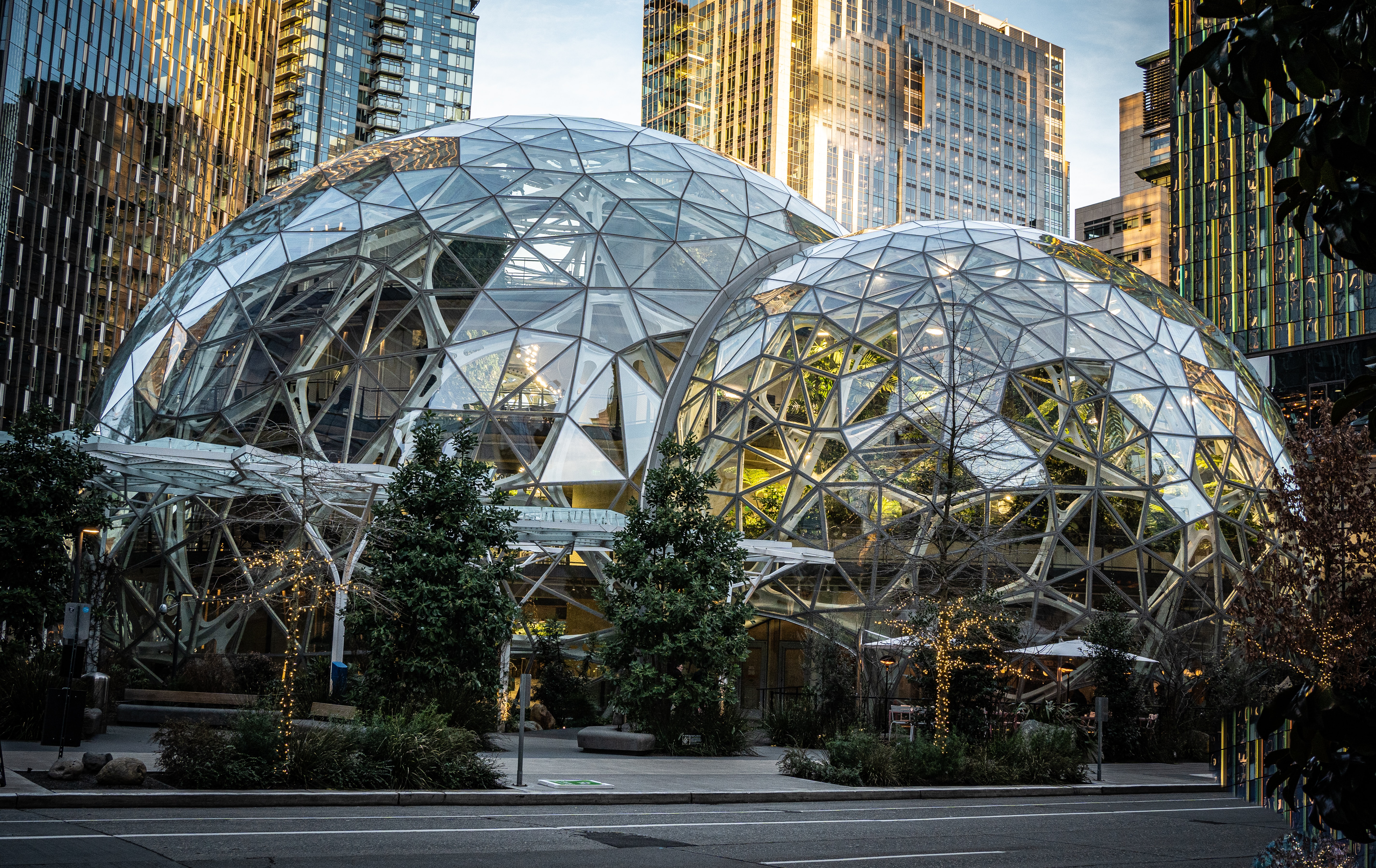 Day 1: Cutting-Edge Insights
The summit kicked off with a warm welcome from Larry Gilreath, Director of Solution Architecture for Systems Integrators, setting the tone for an insightful event.
For the opening keynote, Matt Wood, VP of Product, took the stage and offered an inside look at Generative AI and how AWS sees customers are adopting this new technology. He emphasized the transformative potential of GenAI, citing its role in redefining customer experiences and boosting productivity. Matt also touched on the investments AWS is making in the area with services like Amazon CodeWhisperer and Amazon Bedrock and what we can expect in the near future. Lastly, Wood also highlighted a recent research paper by the Boston Consulting Group that delves into field experimental evidence of AI's impact on knowledge worker productivity. The data showcased both gains and potential pitfalls of AI, depending on the task at hand. You can find Matt's LinkedIn post on the topic here.
The next session revolved around migration and modernization, presented by Aaron Rallo, General Manager of Migration Acceleration, sharing the latest developments in the services AWS offers around migration such as Migration Evaluator. Aaron closed his session with a demo of how GenAI could potentially be leveraged in migration scenarios.
NextGen Developer Experience (NGDE) was a hot topic, led by Deepak Singh, VP of NGDE. Deepak showed some very interesting demos on upcoming features his teams are building incorporating GenAI, aimed at enhancing capabilities for developers. As most of his session was confidential you'll have to wait a little longer to see what is cooking.
Jeff Carter, VP of Relational Databases, shared his vision for the next 5-10 years on data management and governance. Building on the ZeroETL vision presented at re:Invent last year, the focus was the importance of data in todays world, creating a unified view of data, regardless of where it is stored. Also in data GenAI will play an important role. For example with the use of natural language to query system and AI-generated queries and ETL pipelines, promising to optimize performance and cost.
Bill Vass, VP of Engineering, inspirational talk explored the future of (Generative) AI in the automotive industry, offering a glimpse into its potential applications and impact Bill shared some examples on how AI can be used throughout the development cycle of cars. For example he explained how the use AI for Computational Fluid Dynamics is already around 95% accurate, reducing the need for long running HPCs jobs and improving iterative development. Another example was using LLMs to answers questions based on your cars owners manual. Bill recently presented the same talk at the AAI event in Munich of which you can find the recording here. Since Bill is also closely involved in AWS' efforts on Quantum Computing he concluded his session with the latest achievements his team made in both Quantum Compunting and Quantum Networking.
Security took center stage in the afternoon, with Michael Fuller, Director of ESS Product Management, and Jon Ramsey, VP of AWS Security, discussing AWS's roadmap for enhancing security across various dimensions. From GuardDuty's runtime protection expansions to Macie's sensitive data protection features, AWS is committed to providing robust security solutions.
The first day of the summit concluded with the AWS Ambassador Awards Dinner & Networking Event, fostering connections and celebrating the contributions of AWS Ambassadors. The event highlighted top contributers of the program, which all received an award for their efforts.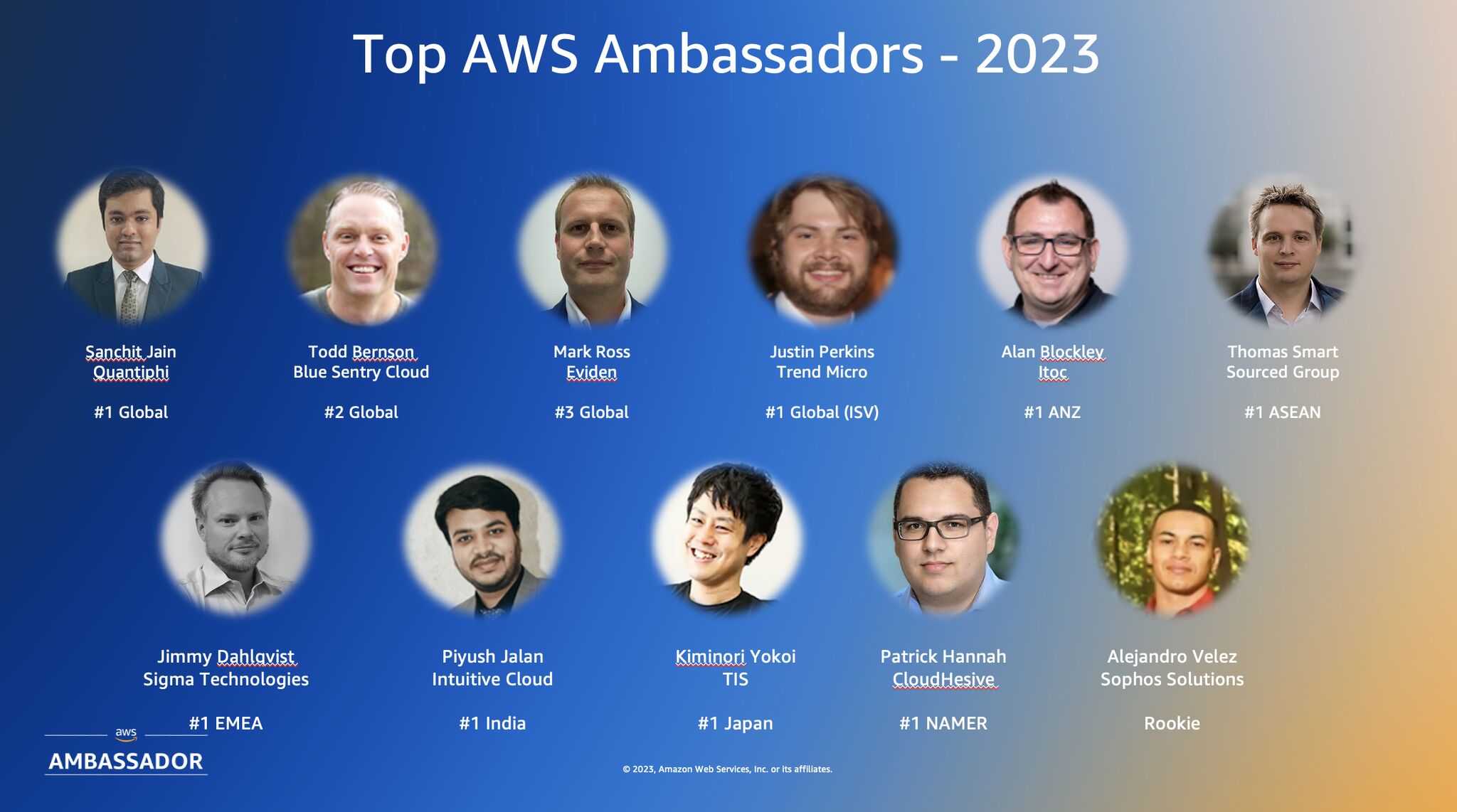 In addition to the Top Ambassadors, also the famous golden jacket was awarded to Ambassadors that were able to get all 12 AWS certifications. Impressive fact is that the average Ambassador has more than 6 certifications and the program currently has more than 40 members that have all AWS certifications. Congratulations to all the winners!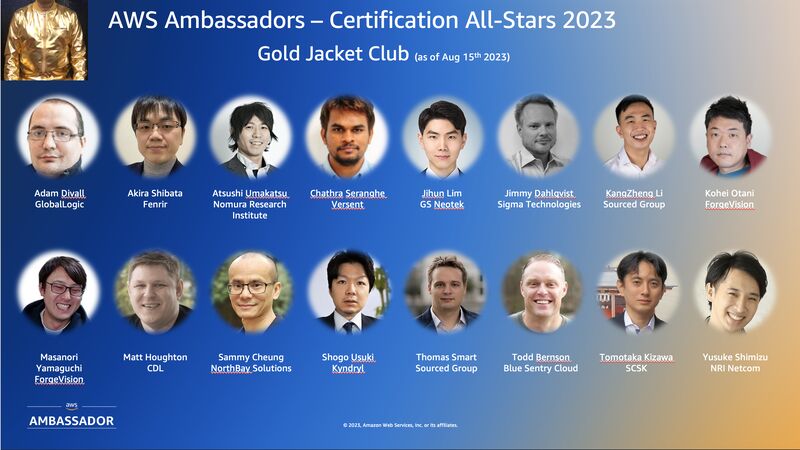 Day 2: Voice of the Ambassador
After a good night of sleep the second day of the event focused around getting input from the AWS partner community and started with a group discussion titled What's Top of Your Mind?. The panel consisted of Kyle Lichtenberg, Director of Solutions Architecture, Michael Schmidt, Director of Solutions Architecture - Industry Verticals and Horizontals, Rohan Karmarkar, Director of GSI Solutions Architecture and Larry Gilreath, Director of Solution Architecture for Systems Integrators. The open and candid discussion focussed around common themes AWS partners experience when working with AWS and where improvements are needed to best support our joint customers.
In the next session, Partner Profitability & APN Programs, presented by Sachin Vora, Director of APN Programs shared some updates on how AWS is working hard to simplify and consolidate the many different programs available to partners.
After lunch Gareth Best, Certified EQ Evangelist and Champion presented on how you can use Emotional Intelligence to supercharge your success. A very informative session in which Gareth shared some techniques to level-set on burnout, be more positive, to calm down when stress rears its head, and develop more grit and resilience. A similar version of his talk can also be found on AWS Skillbuilder, if you happen to be part of the AWS Partner Network.
Next up was a Women in Tech - IDE panel discussion hosted by Jia Masoud, Sr. Program & Operations Manager. In the panel Bhupali Tambekar, CTO & Co-founder - Comprinno, Irene Aguilar, Technical Manager - NTT Data EMEA and Ursula Koski, CTO, Amazon Nordics shared their experiences throughout their careers in tech. It was once again very clear that being an ally for women and other underrepresented groups in tech is essential to making the tech scene more diverse. While there still is a long way to go, it was very good to see that more and more female Ambassadors are joining the program.
The afternoon wrapped up with an engaging series of lightning talks, skillfully presented by AWS Ambassadors from around the world. Lightning talks are brief 5-10 minute presentations, and it was truly inspiring to witness the wide range of topics covered, highlighting the depth of knowledge held by our AWS Ambassadors.
Cloud Adoption Strategy for Large Enterprises - Thomas Smart (Senior Consultant - Sourced Group)
A Deep Dive Into AWS Local Zones - Stefan Evans (Cloud Portfolio and DevOps Manager - CyberCX)
Scaling A Large Engineering Organization with Backstage - Matthew Barlow (Cloud Infrastructure Lead - StratusGrid)
Five Ways to Forecast Cloud Costs - Frank Contrepois (Chief Innovation Officer - Strategic Blue)
Optimization through Modernization and Graviton Quick Wins - Ruslan Kusov (Cloud COE Director - SoftServe)
Gen AI - Srinivasa Kadiyala (Executive Architect - AWS Solutions - IBM)
Using the WA Tool with Custom Lenses - Matt Houghton (Data Architect - CDL)
Sustainability Pillar in WAF - Shohei Yamasaki (Training Coordinator - Serverworks)
Well-architected EKS - Bhupali Tambekar (CTO & Co-founder - Comprinno)
Training AWS Engineers in Japan - Shiho Nagahama (Solutions Architect - BTC)
Million Dollar Lines of Code: An Engineer's Perspective on Cloud Optimization - Erik Peterson (CTO & Founder - CloudZero)
Transforming Nepal's Tech Landscape with AWS Support - Anjani Phuyal (CTO - Genese Solution)
Becoming an Diversity Ally - Aaron Walker (Technology Director - base2Services)
Once the official part had wrapped up, we visited The Garage Bowling Alley for an evening of pure fun and games. Think bowling, giant Jenga, ping-pong, and snooker – the works! It was the perfect way to wind down, laugh together, and create some unforgettable memories.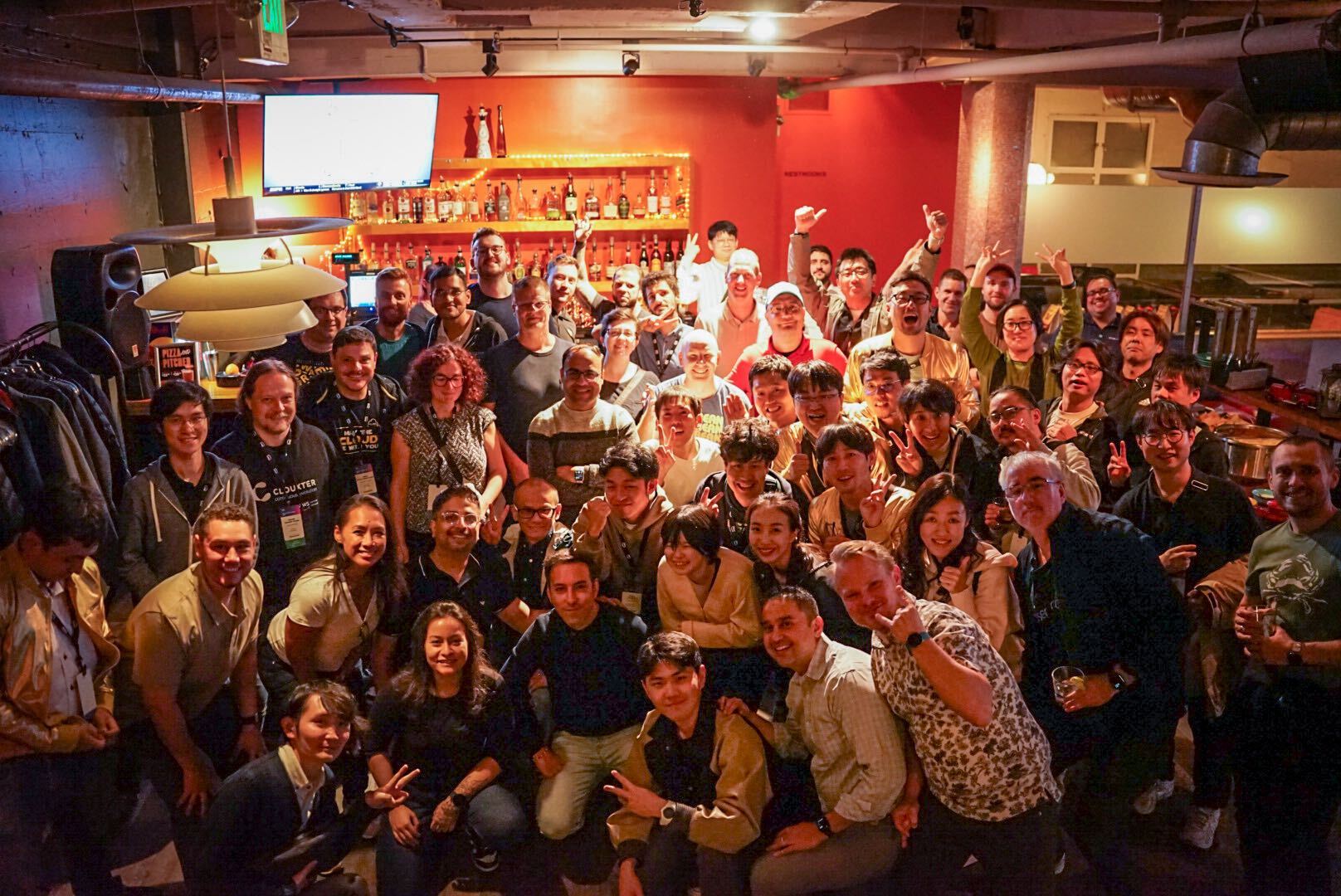 To sum it all up, the AWS Ambassador Summit 2023 was an absolute blast, filled to the brim with fresh insights, valuable takeaways, and the joy of reconnecting with both old and new friends. I'm already eagerly waiting for our next rendezvous at re:Invent in Las Vegas later this year.
Photos by Ben Dutton & Alexandra Tran on Unsplash 1 2
comments powered by

Disqus